Premier Face Painting is there to help you
create a unique keepsake of a very special time!
Having a Maternity Art Portrait offers an opportunity to capture the moment of this precious time by decorating your pregnant belly with original artwork. The design can be anything you desire from the theme of the baby's room or a scene from your favorite childhood book , a seasonal design to celebrate the month your baby will be born in or just something whimsical.

Although the paint will wash away, the memory and the photographs will bring a lifetime of smiles to you and your family members and to share with your child in the future.
The prenatal belly body art is done in the comfort of your home and it takes about an hour and a half to complete.
All ingredients in the products used are FDA approved to use on the skin and are mild and gentle and wash off easily with soap and water.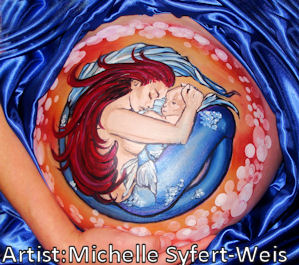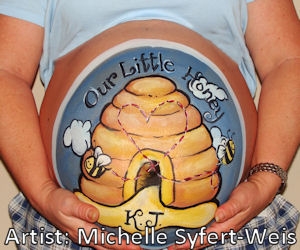 Picture of Michelle Syfert-Weis painting a mom-to-be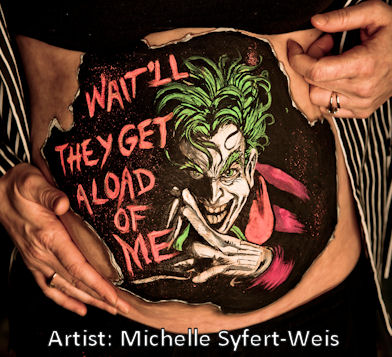 Photography: Jami Guess Photography: Kathy Oros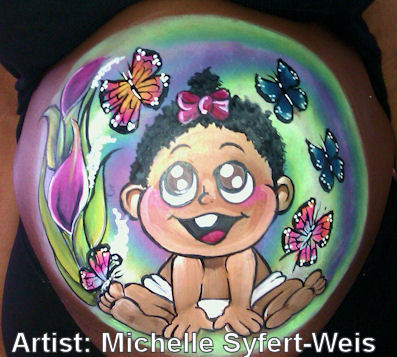 All verbiage and pictures on this website are protected by copyright
You may not use any verbiage or pictures from this website for advertisement in any form!

If you want to give a gift that is truly unique
give a gift of a Maternity Art Portrait!

Prices start at $125.00
Call us to set up your appointment
(502) 295-2842

I just wanted to let you know that I really enjoyed having my belly painted. It's a wonderful memory I will never forget! Everyone at work loved it and wanted to see it again and again~
-Nikkia Kim - Louisville KY


I just wanted to tell you that Michelle Weis did a wonderful job painting my belly. She is a very talented person. Everybody loves it. I'm really glad that I got to be the belly she painted -its an experience I'll never forget.
-Jessica Burnett
All Photos on this website belong to Premier Face Painting and cannot be used without permission.