KIDS DESIGN
FACE PAINTING GALLERY
Experience the difference of "Premier" Quality Face Painting.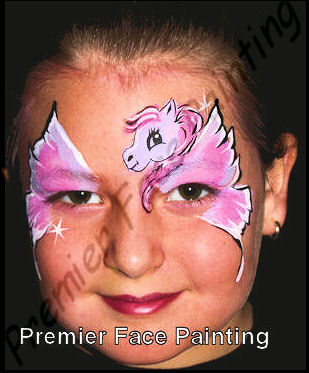 Watch as the magic begins when the brush touches the face and your child and adult guests are transformed into breathtaking butterflies, enchanted fairies and dragons, playful kittens and puppies, brave knights, gorgeous princesses, furious tigers, the possibilities are endless...

Even after the designs are washed away the memories will last a life time with each picture. Remember to have your camera ready!
Less experienced face painters charge less because they know they can not give you the same quality and speed of face painting as us.
Remember you get what you pay for!
Your party or event is about creating memories.
We can help you create those amazing memories
that will put the "WOW" into your guests eyes!
As you look through the galleries you will notice that face painting isn't just for kids to enjoy.
Adults love to join in the face painting fun!
So don't forget them when you plan your next party or event.
We can paint 10 kids per hour with 5 minute designs
11 - 18 kids per hour with our 3 minute designs
We can paint 20-45 kids per hour doing Cheek Art

Below are a few examples our 5 minute designs
Art work By Kathy Oros - owner of Premier Face Painting.